Extended Course Archives - Page 2 of 2 - Nordic Walking For Health
Ready to extend your course to the Fitness level this month ?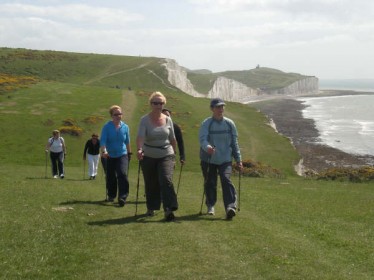 Are you under 60 and ready to move beyond the Health level of Nordic walking technique to the higher Fitness level ? If so, booking is now open for: Session 6 (Fitness level) – 1.30 to 3.30pm Sunday 26 November, South Downs Location (tbc). The price is from £20 per person depending on numbers. Poles are available, if required, and included. To make an enquiry, click on Nordic Walking for Health to send an email or text/phone 07813 524587. For information on these levels of Nordic walking technique, read more at Courses
Posted: November 4, 2017 in Extended Course
Fitness level achieved for under 60s course !
Andrea, Jenny & Vicki with big smiles at the end of their extended Nordic walking course successfully reaching the Fitness level of Nordic walking technique. Andrea: "Thanks again for the course – I really enjoyed it ! " Jenny : "Thanks for a great course. Very enjoyable and hope to practice elements of nordic walking in Austria and on/around the South Downs once I get back." Vicki: "It was fab ! "
Posted: October 21, 2017 in Extended Course

Categories
Archive