Group Walks
Once you're proficient with the technique, you will be able to take advantage of regular group Nordic walks: these are either with or without an instructor.
Instructor-led Group Walks
Instructed, weekly Nordic Walks are available for real, effective exercise. These are for people looking for better exercise than is usually the case in groups with no instructors: more twisting to push back and talking than talking and walking ! The price is discounted when pre-paying for a block of walks:
Thursday mornings – Nordic walks at the Health level of Nordic walking technique
"I decided to take part in these in order to do regular walking exercise, which is particularly beneficial having been diagnosed with osteoporosis. I have been participating for 2 years. Attending a group led by a trained Nordic instructor ensures that I improve my technique which, in turn, means that I get the maximum benefit from the exercise."
Markie, mid-60s, Brighton
"I have been taking in these sessions for 2 years. My beginner course was given to me as a present by a friend to improve my fitness & co-ordination. I thoroughly enjoyed the course and decided to participate in regular instructed walks to ensure I followed the correct technique and to take regular exercise. My fitness & stamina levels have definitely improved. I also enjoy the sociable side of Nordic walking in a group. Peter, the instructor, is very supportive & attentive towards any member of the group's individual abilities."
Jill, early 60s, West Sussex
"I learned Nordic walking just over 2 years ago with my friend, Jill, above. I have continued with these group walks, as I find it keeps me focused. It's easy to slip into bad habits and our instructor, Peter, keeps a constant eye on our technique, correcting us when we lapse ! It's a lovely, friendly group. I enjoy the company on a brisk walk over the South Downs each week. The benefits for me are a healthy walk and a feeling of wellbeing having been in such lovely surroundings. Mind and body are looked after each week."
Lesley, early 60s, West Sussex 
Friday mornings - Nordic walks at the Fitness level of Nordic walking technique
"I first started Nordic walking in 2015 and worked my way up the technique levels from foundation to health and, finally, to fitness. Since June 2019, I have regularly participated in these walks almost every week. They have proved useful for keeping my technique up to scratch. There's always something to work on and think about. Most people think of walking as purely instinctive, but the whole point of Nordic walking is to be conscious of what you are doing and how you are doing it: instructed walks are advantageous in keeping things tuned up, reinforcing good habits and correcting faults. It is particularly good for someone my age, helping enormously with posture and balance together with all the advantages of healthy aerobic exercise. There's also the pleasure and sociability of being in a group, getting to know people, chatting. So, it's equally good for mental as well as physical health. The instruction is well thought out and delivered, superb !"
Peter, mid-70s, Brighton
More information about the different levels of Nordic walking technique is at Courses
Refresher Sessions available on request all year round.
Other group walks are social – organised & led by untrained, but very enthusiastic, volunteers and with no instructor present, so just like going for a walk with friends – and operate independently of Nordic Walking for Health, including Flo & Co, Poles Apart and the Stanmer Striders that walk in the Brighton & Hove and the surrounding area and the Ashdown Striders that Nordic walk on the Ashdown Forest. Nordic walkers are also welcome to join in on the Nordic Progression Walks and the standard Health Walks provided by the Brighton & Hove Healthwalks Scheme. These are led by trained volunteers and not by accredited instructors.
It is important to ensure that you select walks to match your level of competence and that you take responsibility for preparing adequately beforehand as well as for exercising safely when you participate.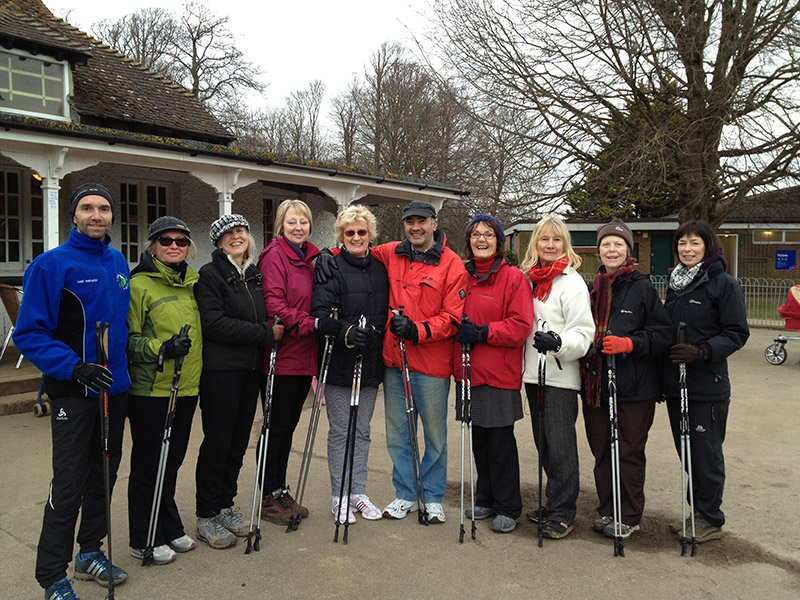 Nordic Healthwalks in Brighton & Hove
In January 2013, Nordic Walking for Health launched free Nordic Walks through the Brighton & Hove Healthwalks Scheme that also welcomes Nordic walkers on its free, daily Health Walks. This ceased during pandemic lockdowns from 2020. It is hoped that these opportunities will become available again during 2022.
People who successfully complete an accredited Nordic walking course and possess their own Nordic walking poles will be welcome to participate. These courses are provided locally by Nordic Walking for Health and do not receive a subsidy from the city council.
Nordic walkers achieving the foundation level of Nordic walking technique will then be able to take part in the relatively easygoing 'green' traffic light level Health Walks that are on offer every day of the week.
To date, twenty-eight courses have taken place with 170 participants reaching the foundation level and many then going on to successfully complete Health & Fitness levels.
To register interest in the walks and/or a course, click on Contact Us
For more information go to Nordic Healthwalks
Neither the courses nor the regular healthwalks is part of an Exercise on Prescription or a GP Exercise Referral scheme.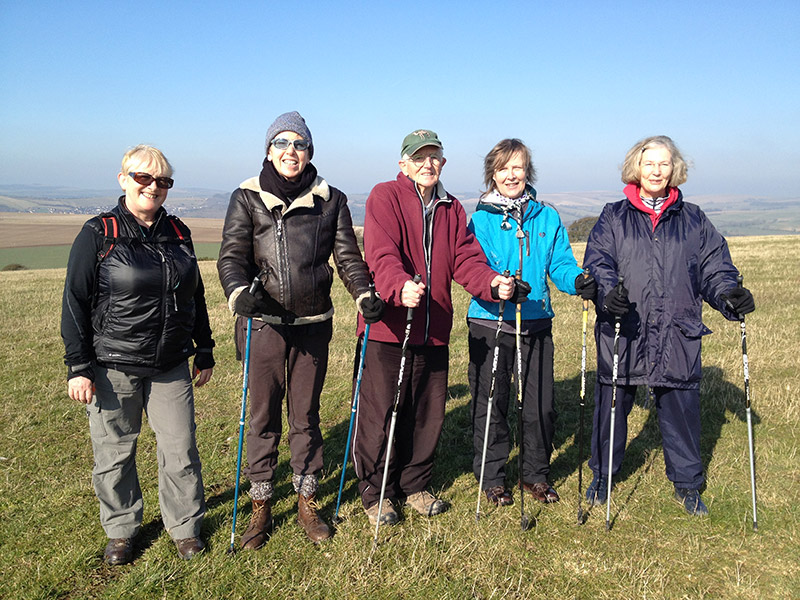 Social Nordic Walks - Brighton, Hove and Shoreham-By-Sea
Social Nordic walking groups provide walks without the presence of a trained Nordic walk leader or accredited Nordic walking instructor.
The Downs Nordic Walkers
A new Nordic walking group is being launched this September (2022) for the eastern end of the South Downs around Brighton and Eastbourne. Nordic walks led by Gill, a trained volunteer Nordic walk leader, will take place every third Saturday of the month. Weekday walks will also be offered during the school holidays.
This group is for people, who have successfully completed a Nordic walking course to, at least, the Health, if not the Fitness, level of technique with Nordic Walking for Health or with another accredited Nordic walking instructor - email Gill or text her on 07895 338566.
Flo & Co
Flo & Co, formed in May 2010, also welcomes new members, who have successfully completed a Nordic walking course to, at least, the Health, if not the Fitness, level of technique with Nordic Walking for Health or with another accredited Nordic walking instructor. The group Nordic walks last for about 2 hours covering 3- 5 miles over terrain with varying degrees of difficulty. It is run by Jenny Hayward and currently has 10 active members. Email Jenny to be kept informed of planned walks on Tuesday mornings throughout the year.
The Stanmer Striders
The third group, the Stanmer Striders, was set up in April 2019, is run by Mary Shrewsbury. Email Mary to be kept informed of planned walks every Wednesday morning. These walks - for Nordic walkers at the Foundation level of technique, i.e. having successfully completed a four session Nordic walking beginner course - take place in Stanmer Park lasting an hour or so.
Castle Hill Nature Reserve - Woodingdean

If you're interested in joining Peter Stanley, a Flo & Co member living in Woodingdean, on one of his weekly Nordic walks (NOT Tuesday PM or Thursday AM) through the reserve, email Peter Stanley or phone him on 01273 692987.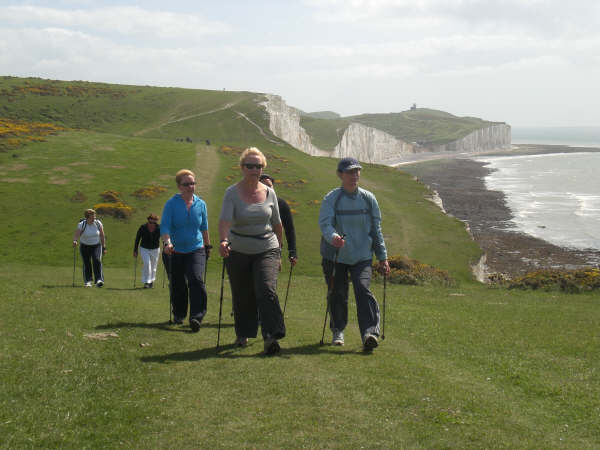 The Seabourne Striders
In Summer 2021, Nordic Walking for Health helped some keen Nordic walkers to set up this new social Nordic walking group. Its walks are free and for competent Nordic Walkers ONLY, i.e. those who have successfully completed a course with an accredited Nordic Walking Instructor to the Health (or equivalent) level of Nordic walking technique.
The group walks for approximately 1.5 hours every second Friday morning in the month starting at 9.30am. Email Norman if you are interested in joining them. You will need your own set of Nordic walking (not trekking) poles.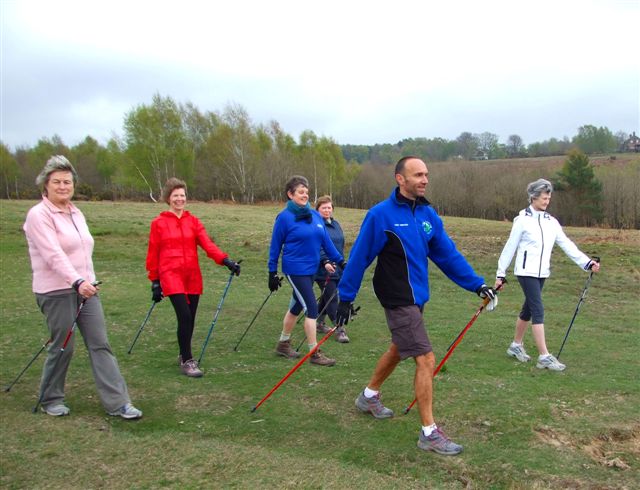 Ashdown Striders
This social Nordic walking group had its inaugural walk on 2 August 2015. It was run by a volunteer organiser, who learned to Nordic walk with her son on a Nordic Walking for Health course.
Cate & Tom have sadly moving out of the area, so we're now looking for a new volunteer organiser to relaunch social walks for competent Nordic Walkers ONLY, i.e. people who have successfully completed a course with an accredited Nordic Walking Instructor.
Please contact us if you are interested in becoming a volunteer.